Lauer in line 11-30-17
See Michael's latest cartoons HERE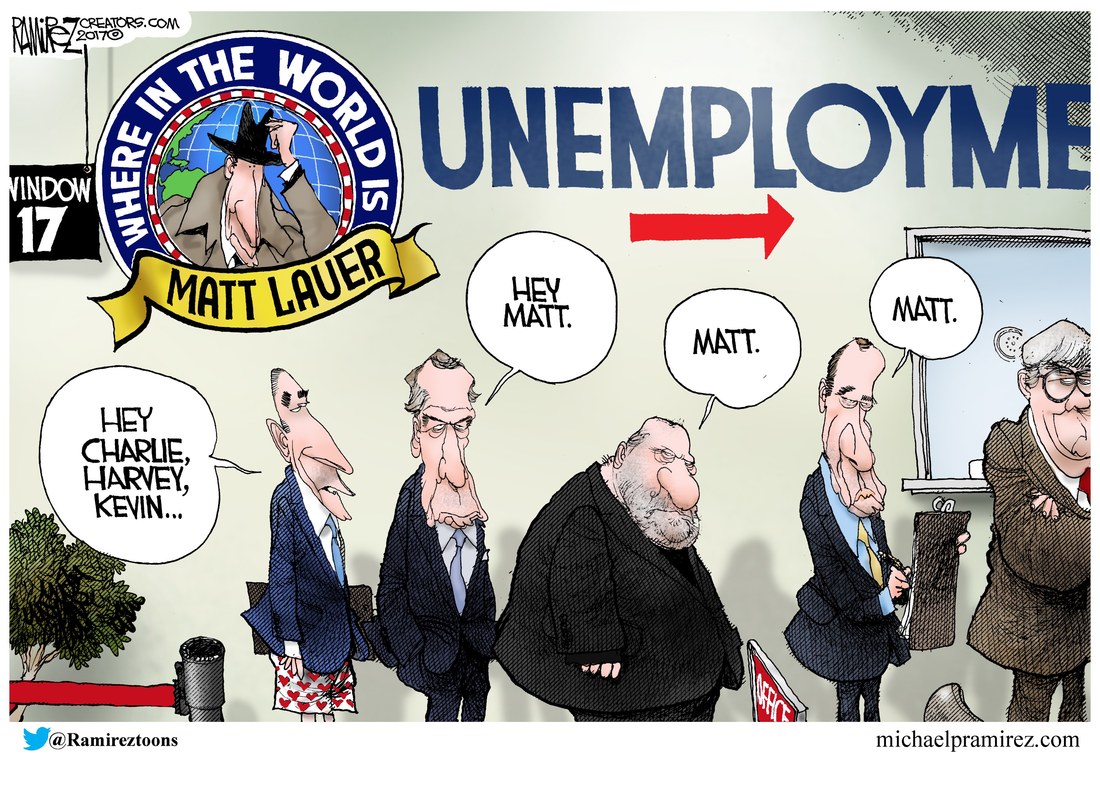 | | |
| --- | --- |
| Matt Lauer lands in long unemployment line after lewd allegations - cartoon by Michael P. Ramirez | |
Rusty Humphries: Bad Boys Get Spanked

November 30, 2017 Whiskey Politics with Dave Sussman

Rusty Humphries returns to Whiskey Politics to discuss news personalities, politicians and power brokers being outed as molesters, gropers, and general pervs. We also touch on Facebook filtering conservative posts, Net Neutrality, holiday movies worth seeing, Matt Lauer, Mel Gibson, Roy Moore and why Rusty thinks Al Franken has a legitimate shot running for President in 2020 (seriously).

Rusty is a Multi award-winning talk radio host, Strategic Advisor, Political Influencer, Trendsetter, #1 Bestselling Author, Media and Leadership Consultant/Speaker. His most recent book

7 Ways to Win Political Debates with your Liberal Family and Friends, and Still Keep Them as Family and Friends

is now available at

RustyLive.com

and follow Rusty on Twitter

@Talk2Rusty

.

Michael Ramirez's latest artwork honoring America's veterans is now available in a limited signed and numbered print. Reproduced with archival inks on fine art paper, the image measures approximately 14' x 9' with a 1' border for a total size of 16" x 11' Click HERE or on the image to see pricing.
Original sketch, original ink drawing and the first print are also available as a single set. All of Michael's available art may be viewed HERE
NBC News fires Matt Lauer after sexual misconduct review
​

by

ERIK ORTIZ

and

CORKY SIEMASZKO NBC NEWS
Matt Lauer, a familiar face in morning news as the anchor of "Today" for two decades, was fired by NBC News on Wednesday after a female colleague made a detailed complaint accusing him of inappropriate sexual behavior during the 2014 Sochi Olympics.
The accusation also noted that the alleged behavior continued in the workplace after the games, NBC News confirmed.
Later on Wednesday,
The New York Times reported
that two more women had made complaints about Lauer after he was fired. An unidentified former employee told The Times that Lauer sexually assaulted her in his office in 2001. NBC officials confirmed that two more accusers had come forward on Wednesday. And
Variety
published a more sweeping account of Lauer's sexual misconduct with at least three women over several years.
"Today" co-anchors Savannah Guthrie and Hoda Kotb were emotional as they announced Lauer's firing Wednesday, telling viewers at the top of the live broadcast that they were "heartbroken" over his departure but didn't yet know all of the details.
In a memo to employees sent Wednesday morning, NBC News Chairman Andrew Lack said the complaint prompted a serious review and represented a "clear violation of our company's standards."
Lack said it was the first complaint lodged against Lauer
, 59, for his behavior since he took over as anchor of the show in 1997, but there was "reason to believe" it may not have been an isolated incident.
"Our highest priority is to create a workplace environment where everyone feels safe and protected, and to ensure that any actions that run counter to our core values are met with consequences, no matter who the offender," Lack said.
read more