Travel Ban 03-11-17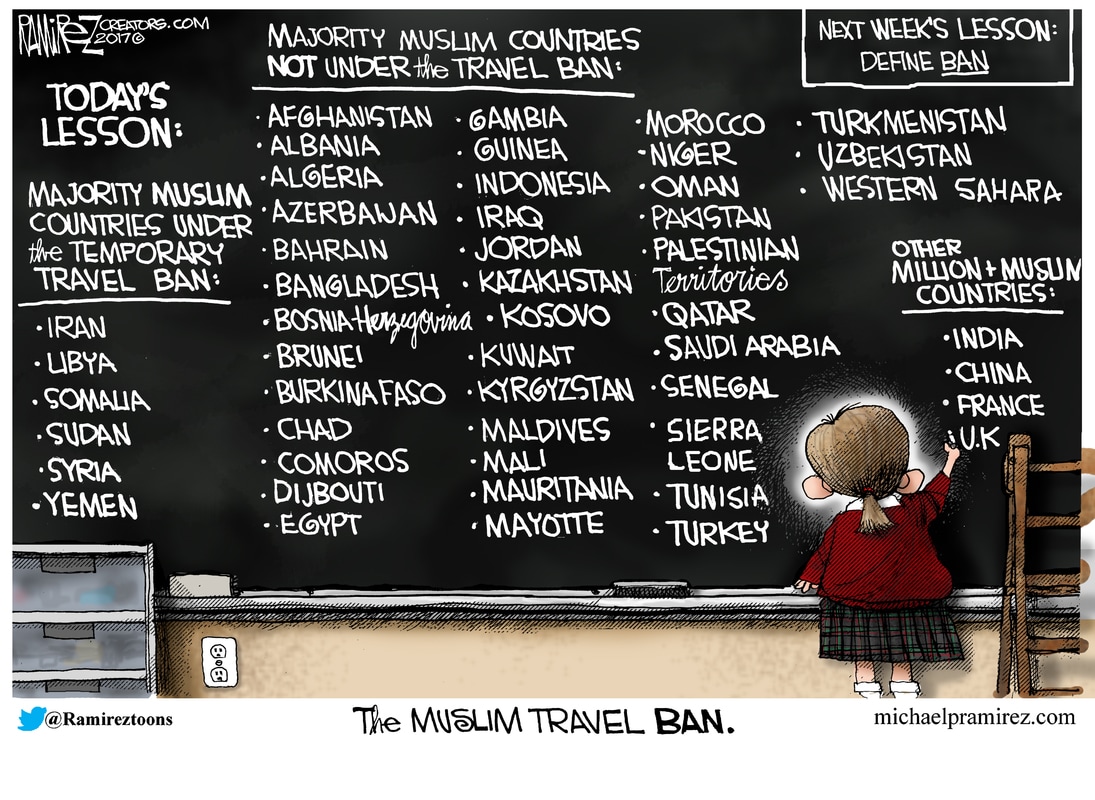 Michael P. Ramirez cartoon; student makes blackboard list of 6 countries under travel ban and dozens that are not.
Excerpted from original essay:

The Trump administration has wisely retreated from a battle at the Supreme Court and refashioned a narrower, clearer travel ban explicitly designed to pass muster with the judiciary. Some of the key elements are still in place, including a 120-day suspension of the U.S. Refugee Admissions Program and an annual refugee cap of 50,000, but Iraq has been removed from the list of countries from which travel is temporarily suspended (applicants from Iraq will be treated on a case-by-case basis), and the indefinite halt to Syrian refugees has been rescinded. Additionally, the administration has supplied a list of exceptions, among whom are green-card holders and foreign nationals traveling on diplomatic visas. The order also includes more-detailed justifications for the temporary travel bans on the six remaining countries, provides the sources of the president's legal authority for the order, and expressly rejects the idea that the order discriminates against Muslims. (Regrettably, in its effort to rebut those claims, the White House removed language that permitted the prioritization of asylum claims from persecuted religious minorities.)

more below

For speaking requests, comments and questions, please email melissa@michaelpramirez.com
Although he travels frequently, Michael P. Ramirez works and lives near Los Angeles, California.
The clarity of the order was reflected in its rollout. Secretary of State Rex Tillerson, Homeland Security Secretary John Kelly, and Attorney General Jeff Sessions convened to present the new order at a press conference on Monday morning, explaining what it is and isn't. Also, a ten-day delay is built into the order to give the appropriate agencies time to coordinate before the order goes into effect. more below
Despite the woolly reasoning of the Ninth Circuit, there was never any question of the president's legal authority to issue his original travel ban. The problems were political — and, to that extent, self-inflicted. This new travel ban has been crafted with more care, and its implementation suggests a welcome preference for deliberateness over haste. Hopefully, strengthened vetting procedures will result that will enable the United States to accept asylum-seekers without compromising our vital national-security interests. And, hopefully, the White House has learned its lesson: that if something is worth doing, it's worth doing right — the first time.
Read the entire essay here