The Obamacare Disaster 03-07-17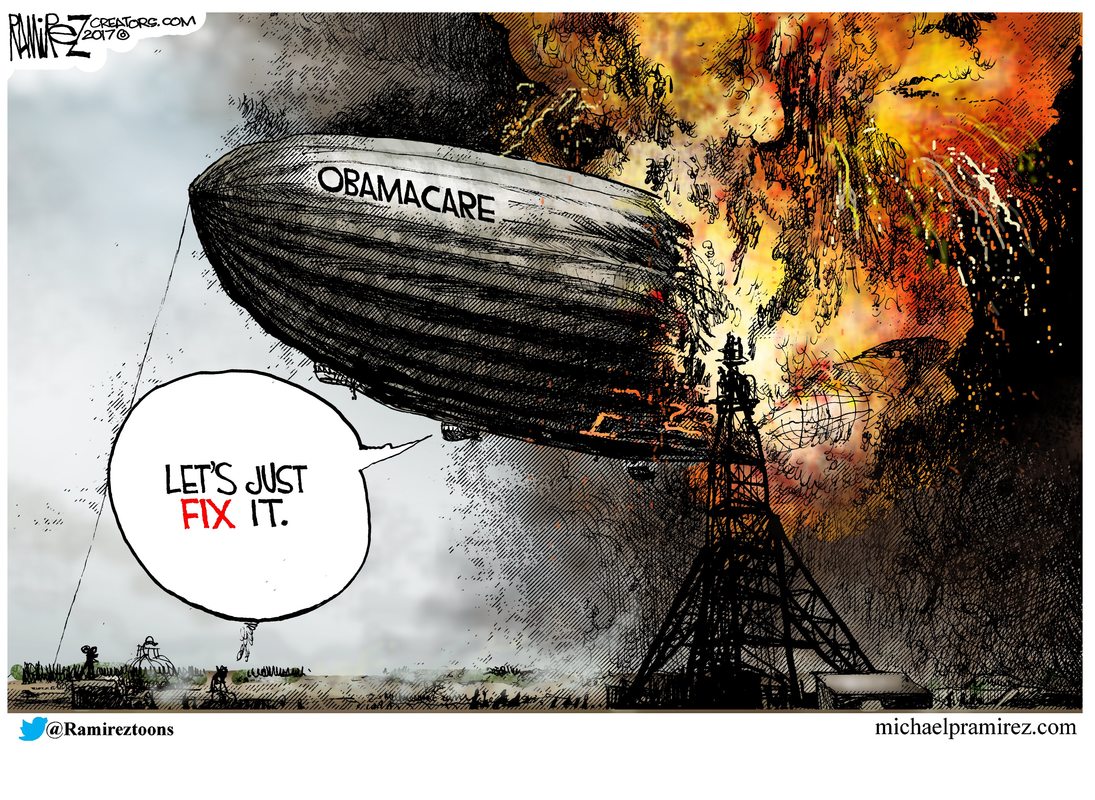 Michael P. Ramirez cartoon depicts the Hindenburg disaster with the famed blimp labeled "OBAMACARE" blowing up while observers on the ground say, "LET'S JUST FIX IT".
For speaking requests, comments and questions, please email
melissa@michaelpramirez.com
Although he travels frequently, Michael P. Ramirez works and lives near Los Angeles, California.
IS THE GOP HEALTH CARE BILL A DISASTER?

POSTED ON

MARCH 7, 2017

BY

JOHN HINDERAKER

POWERLINE

That is what a lot of people are saying: Obamacare Lite, or Obamacare 2.0. Paul Ryan, on the other hand, calls it the most significant entitlement reform in 50 years. Maybe it is. But the Republicans hold power in Washington in considerable part because of popular revulsion against Obamacare. Hasn't just about every Republican in Congress pledged to repeal Obamacare? Haven't the House and Senate actually voted to repeal Obamacare? So what, now, is the problem?
ARE REPUBLICANS BLOWING IT ON HEALTH CARE?
POSTED ON
MARCH 7, 2017
BY
STEVEN HAYWARD
POWERLINE
Health care policy, like K-12 education and college sports handicapping, is an abyss I try my best to avoid, because energy and environment are so much more fun! Almost 25 years ago I wrote a cover story for
Reason
magazine about "
The Medicare Monster
," and resolved never again to go through the torture of investigating health care policy, despite the fact that the great Richard Epstein
still
talks today about how great he thinks the article is.
But the slow-motion train wreck of the GOP effort to "repeal and replace" Obamacare now compels me to step out of retirement and wonder whether the GOP is up to the challenge. The GOP Obamacare reform bill released yesterday is getting almost universal raspberries from conservative health care wonks. Knowledgeable health care analysts are calling it "Obamacare lite."
Avik Roy thinks
it's a political loser: (more below)
The CBO is likely to score the AHCA as covering around 20 million fewer Americans than Obamacare. There are flaws in the way the CBO models health reform legislation, but the AHCA itself contains enough flaws that there can be little doubt that the plan will price millions out of the health insurance market.
​
Expanding subsidies for high earners, and cutting health coverage off from the working poor: it sounds like a left-wing caricature of mustache-twirling, top-hatted Republican fat cats.


Philip Klein in the
Washington Examiner
says that the GOP bill effectively means that "
liberalism has won
":
Barring radical changes, Republicans will not be passing a bill that ushers in a new era of market-based healthcare. In reality, the GOP will either be passing legislation that rests on the same philosophical premise as Obamacare, or will pass nothing at all, and thus keep Obamacare itself in place. . .
The GOP bill preserves much of the regulatory structure of Obamacare; leaves the bias in favor of employer healthcare largely intact, replaces Obamacare's subsidies with a different subsidy scheme, and still supports higher spending for Medicaid relative to what was the case before Obamacare.
National Review's Jim Geraghty finds his mordant joke about what was coming vindicated:
| | |
| --- | --- |
| | For the past few weeks, I've been joking, "Republicans are set to replace Obamacare's system of subsidies, where the government gives you money to help pay for health insurance, with a system of refundable tax credits, where instead, the government will give you money to help pay for health insurance." |
The real problem is that the GOP bill really doesn't reform our government-dominated health care marketplace because it does very little to get at the fundamental problem of how we made health care, willy-nilly, a third-party payment system a long time ago.
Read more at POWERLINE