Ramirez at Ronald Reagan Presidential Library & Museum
Wednesday, Feb. 17, at 6 PM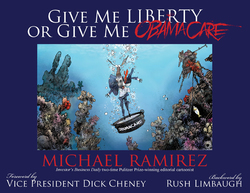 ​
RAMIREZ @ RONALD REAGAN PRESIDENTIAL LIBRARY & MUSEUM
WEDNESDAY, FEB.17 @ 6PM. Cost: FREE
To Register call: 805-522-2977 or go
HERE
:
I will be returning to the fabulous Ronald Reagan Presidential Museum in Simi Valley for a lecture and a book signing on Wednesday , February 17th at 6 PM PST. If you have never been to the Reagan Presidential Library and Museum, it is one of my favorites. It sits on top of a mountain overlooking the beautiful golden hills and valleys of Simi Valley.
The Museum houses the archives of the Reagan Presidency and showcases the achievements and legacy of what some of us would call the greatest President in modern history. And as an added bonus, the retired Air Force One is there, which you can tour... So come early. It's worth the visit!
Please join me at the event. I will be signing books shortly after the lecture.
From the
Reagan Foundation Website
:
6:00 p.m. Lecture
7:00 p.m. Book Signing
Please join us for a lecture and book signing with bestselling and award-winning political cartoonist Michael Ramirez for his new book, Give Me Liberty or Give Me Obamacare. This event is free to attend, however books must be purchased in the Reagan Library Museum Store to receive signature. Books may be pre-purchased during the reservation process. Register for the Michael Ramirez event here, or call 805-522-2977.
Michael Ramirez is America's premier conservative editorial cartoonist. Give Me Liberty or Give Me Obamacare is a trenchant and outright hilarious collection of political cartoons, presenting a wonderfully intelligent and beautifully drawn snapshot of the absurdities of the Obama presidency. Ramirez tackles everything from Obamacare to the economy, foreign policy to culture wars and the environment.
With a forward by Vice President Dick Cheney and Afterward by Rush Limbaugh, Ramirez offers the conservative reader a compilation of his award-winning cartoons—and a clever way to remember the eight years they've hated!
Click
HERE
for the Reagan Foundation website