The Walking Dead 07-15-17 See Michael's latest cartoons HERE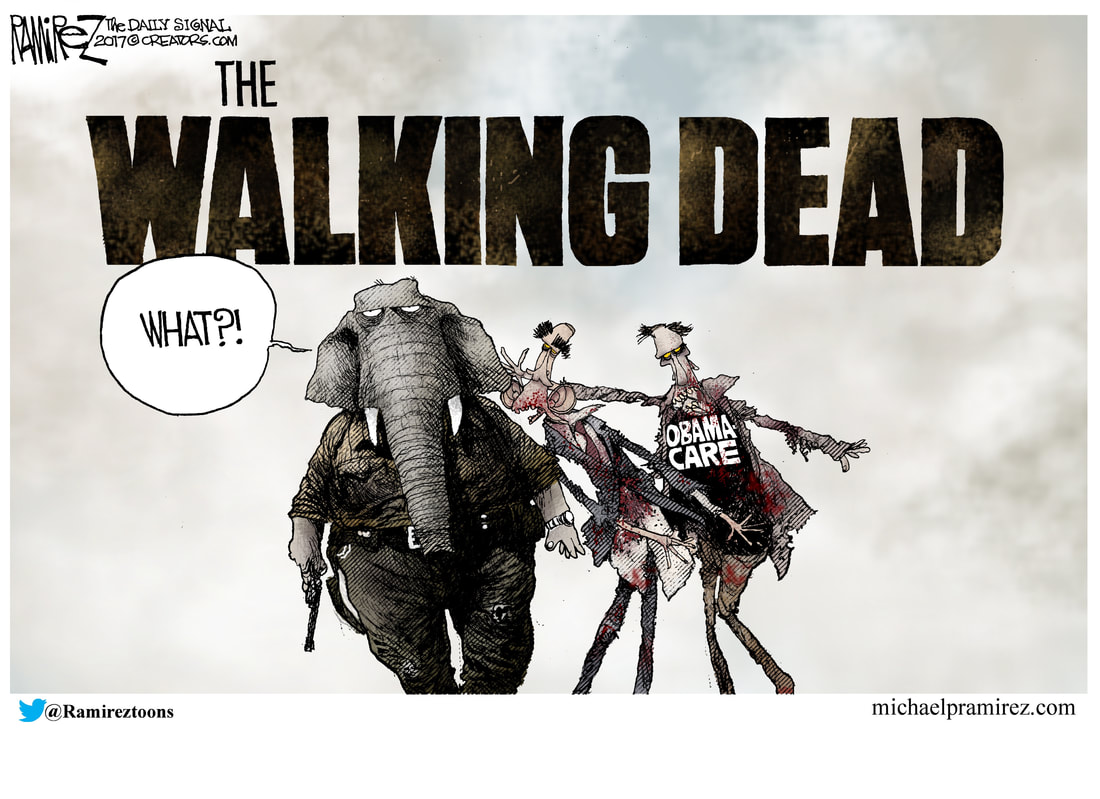 | | |
| --- | --- |
| The latest season of the Obamacare apocalypse | |
Why the Revised Senate Health Care Bill Is a Major Improvement Over the Status QuoRobert Moffit

July 14, 2017

DAILY SIGNAL

On Thursday, the Senate Republican leadership unveiled an updated version of the

Better Care Reconciliation Act of 2017

. While it is an imperfect legislative product, it is nonetheless a major improvement over the status quo.

Obamacare has wrecked both the individual and small group health insurance markets.

After seven years, millions of Americans enrolled in the individual markets have suffered premium rate shocks--

amounting to 25 percent on average this year alone

—breathtaking increases in their deductibles, and precipitous declines in choice and competition within the individual market.

This week, the

Centers for Medicare and Medicaid Services reported

that fewer insurers have applied to sell Obamacare plans for 2018. Today, a stunning

70 percent of American counties

have only one or two health insurers offering plans.

The Senate health bill released Thursday represents a solid first step in reversing these Obamacare-induced failures.

It would repeal both the individual and the employer mandate penalties, it contains provisions to lower premiums and increase the availability of insurance plans, and it would make it much easier for states to control their own health insurance markets.

These steps represent a series of initial blows against Obamacare's intrusive and unprecedented federal restrictions on personal and economic freedom.

By making it easier for states to secure waivers from many of Obamacare's mandates, the bill moves to restore the traditional authority of the states to regulate their own health insurance markets in accordance with the particular wants and needs of their citizens. This will help to spur bottom-up innovation in health insurance benefit design, as well as payment and delivery reforms.

The bill would also provide states with special funding to help stabilize their health insurance markets and to assist low-income or high-risk persons with premium and out-of-pocket costs.

Obamacare included major tax increases. The Senate bill cuts a variety of taxes, including those on health insurance, drugs, and medical devices, which result in higher health care costs.

​

The Senate bill would also enact major, transformative reforms to Medicaid.

Today, Medicaid is a poorly performing, open-ended entitlement where the federal taxpayers automatically cover state Medicaid costs.

The Senate bill,

like the House bill,

establishes per capita caps for Medicaid spending, indexed to inflation, and puts the program on a responsible fiscal path. At the same time, the bill would retarget Medicaid funding to our society's poorest and most vulnerable citizens—the elderly, disabled, and pregnant women and children in poverty.

read more

Join our friend Dave Sussman of Whiskey Politics at FreedomFest & get $100 off with offer code WHISKEY
These 4 Body Blows Against Obamacare Show It's A 'Dead Man Walking'…But Beware The Zombie
The completion of the con...
Norvell Rose
August 17, 2016 at 7:48am
WESTERN JOURNALISM
"Dead man walking" — a phrase once used by guards in U.S. prisons when a convict condemned to death was led down a hallway — has become the perfect metaphor for the scheme, the scam, the dead-on-its-feet swindle that is Obamacare.
It's like the movie monster that won't die, no matter how many "fatal" blows it receives. Frankenstein on steroids. Dracula immortal. The Creature from the Black Lagoon called Washington, D.C.
OK, enough with the clever descriptives — what's now happening to President Obama's wildly hemorrhaging health insurance debacle should be enough for a deaf, dumb and blind medical examiner to declare it lifeless and rotting. But then you'd be dealing in facts and logic, and you'd be missing what could soon prove to be the last part of the biggest con job in the Age of Obama.
The left's insistence that Obamacare is alive and well and simply in need of a little adjustment, a few tweaks, a minor modification here and there is enough to drive a sane person crazy. But watch out, friends, the president, the woman who wants to be president, and their cunning, power-hungry accomplices are crazy like a fox.
Actually, what they want — and what they've had in mind all along, despite the games they've been playing — is for the system as it exists (or what's left of it) to fail. They want the ailing Obamacare setup to flatline. Then, the government rides to the rescue of a wailing public with the top-to-bottom health care takeover the progressives tried to impose in the first place.
Yes, Barack Obama's signature legislative achievement — like so many of his so-called "accomplishments" — is a flat-out failure…and, as I said, that's what the deconstructive disorganizer in the White House wants, despite his pompous pretense.
Here are the four latest body blows that mean Obamacare is a brain-dead zombie of a program on life support…and on death watch....
read more